Northern Ireland – Giant's Causeway, Guinness, and more recently Game of Thrones.
In September, we were fortunate enough to be invited to a wedding in Lisburn, Northern Ireland. As neither of us had been, we took it as an opportunity to discover this amazing place we'd heard nothing but great things about!
Northern Ireland Basics
Currency: Northern Ireland is part of the UK, so they use British Sterling (and for the Brits amongst you, things like phone signal/card transactions work just like they do in England).
Size: Approx. 80 miles from north to south, and the same east to west.
Travel: Cheap flights are available from most UK airports, and you can also get the ferry from Liverpool. Alternatively, you could get an Interrail Pass and explore both Northern Ireland and the Republic of Ireland.
Psst – not sure what interrailing is? Check out our blog!
Trip Details
We bought a package with RyanAir, which included:
return flights from Manchester – £51.98 in total for 2 people
car parking at Manchester Airport – £30.90
and car hire for 3 1/2 days – £38.48
The total cost for us was just £125.35 . We were really happy with this price! We both like driving and the freedom that a car brings so having a car was a no brainer for us.
Side Note: If you've had less than 3 years' driving experience or are under 25, we recommend calling the car hire company to confirm that everything is okay with your booking. As we booked through a third party, we were only told when we turned up at the car hire place that we needed to add an additional driver as the main driver had only been driving for 2 years. An unplanned £40 was not the best way to start the trip!
Carrick-A-Rede Rope Bridge
After a good old traditional Irish wedding, it's safe to say we didn't quite get up at the crack of dawn…
However! After some googling we decided to hit up the Carrick-A-Rede Rope Bridge. We wanted a nice walk and to see the sights for once, so we set off on the 70 (ish) minute drive from Belfast to Ballintoy.
If you have more time, you could take the Causeway Coastal Route – this is a route that runs along the beautiful coast of Northern Ireland, and really is breathtaking. This route would take you more like 3 hours from Belfast to Ballintoy, but if you enjoy scenic drives then I'd totally recommend it!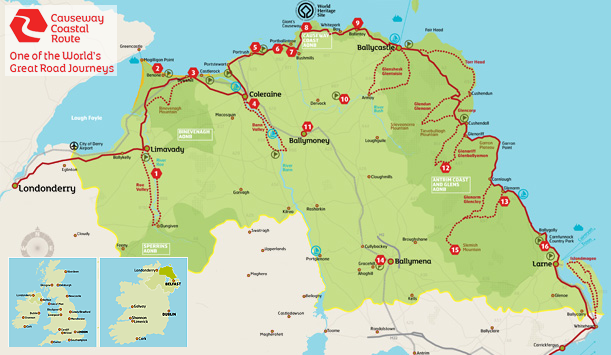 The rope bridge is over 300 years old, and is ran by the National Trust. There's a cost of £8 per person to cross the bridge, but there are plenty of nice walks if you're sticking to a tight budget. There is no limit on how long you spend on the island if you do cross, so if the weather was nice taking a picnic would be a great idea!
The Rope Bridge is only 20 minutes drive from the Giant's Causeway, and forms part of the Causeway Coastal Route.
Time Spent: 1.5 hours
Star Rating: * * * * 
Giant's Causeway
This is what we'd heard the most about and what I was most looking forward to when visiting Northern Ireland.
There is a visitor's centre, but we'd read that it wasn't really worth visiting if you enjoy the scenery more than the history. With this in mind, we had lunch at The Nook, with the added benefit of free parking as we'd eaten there. The food was nothing special, but great to fuel up for a walk down to the Giant's Causeway! They also had some outdoor seating which again would be great for lunch with a view in the Summer.
We started on the slow descent down to the Causeway (and noticed that there was a shuttle bus up and down the hill for later!). The views right from the start are beautiful, and it's great to just take it in at your own pace. Northern Ireland is known for its relaxed, slower pace and this is definitely evident at the Causeway. Some tourist hotspots can be a bit tense and full of people trying to get the best 'gram photo, but this didn't seem to be the case here.
After walking around the base of the Causeway, we settled on some rocks and just took in the atmosphere (under a hoody, as it was September after all!). This landscape really is like no other – definitely a must-see.
Time Spent: 2 hours
Star Rating: * * * * * 
The Dark Hedges, Ballymoney
No idea what this is? It's also known as the King's Road in Game of Thrones…
Being the half of a couple who has not seen GOT can be challenging at times; particularly when you visit a country where half of the filming took place.
After looking at some filming hotspots, we settled on The Dark Hedges, as it was on the way back to Belfast and to be honest, just looked cool.
We parked on a nearby road – we recommend parking on the north side of the road, as cars have been prohibited from driving down the road since 2017.
It was cool to walk up and down and take some photos, and if it's on your way then it's cool to see. However, would I make a specific trip to it? Probably not.
Cost: Free
Time Spent: 10-15 minutes
Star Rating: * * * 
Titanic Belfast
Titanic Belfast was the last activity we managed to squeeze in before heading back to the airport – and I'm so glad we did!
Tickets are £18 per person, but we used Avios points from a credit card we'd used so got them completely free – win!
I've always been a huge fan of the film but never knew much about the history of the actual ship or what it meant for Belfast at the time.
It is a particularly well-planned exhibition, with a clever use of floors to make it a more interesting experience. It includes original furniture and room layouts, as well as in-depth detail about how the ship was built and what life was like for the thousands of people involved in its creation.
There is even a ride within the exhibition which physically takes you on the journey of creating the Titanic!
I would 100% recommend this to anyone visiting Belfast!
Cost: £18 per person
Time Spent: 2 hours
Star Rating: * * * * *
And of course, the wedding…
Congratulations Kathryn & Aidan and thank you for letting us be part of your beautiful day!